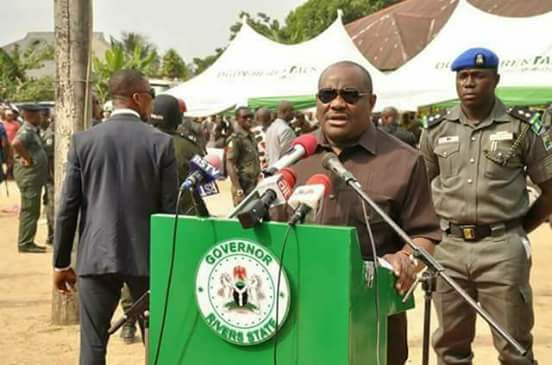 In a move to further empower Ekpeye communities, Rivers State Governor, Nyesom Ezenwo Wike on Tuesday flagged off the reconstruction of Ahoada-Odienereyi-Ihugbogo-Odieke road in Ahoada East Local Government Area.
Performing the flag off, Governor Wike declared that the state-wide execution of projects by his administration has improved the lives of the people.
Governor Wike also directed the Rivers State Ministry of Power to conclude the electrification of four communities in Ward 10 of Ahoada East Local Government Area.
He said: "The construction of Ahoada-Odienereyi-Ihugbogo-Odieke road will create more jobs for the people living in the Local Government Area.
"The contractor has been given six months to complete the job. Funding of the project will not be a challenge as money has been set aside ".
He said that his administration is built on honesty and integrity, noting that all campaign promises will be kept.
The governor regretted that the APC Federal Government makes promises without the intention of keeping such promises.
He informed that the reconstruction of Western Ahoada County Grammar School would be flagged off in January, 2018.
Rivers State Works Commissioner, Mr Dum Dekor said the road spans 10kilometres, while the contractor has been fully mobilised to start work immediately.
Caretaker Committee Chairman of Ahoada East Local Government Area, Mr Sunny Ideozu commended the Rivers State Governor for executing meaningful projects in the area.