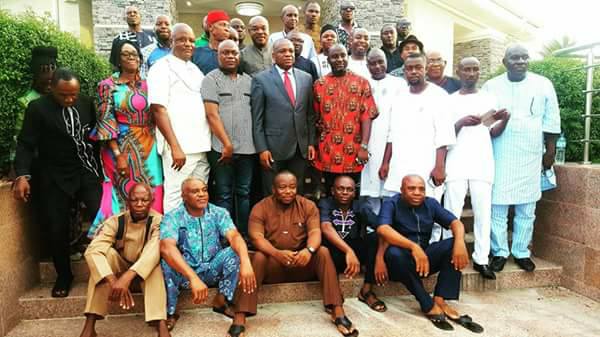 IS APC COMING TO ABIA TO APOLOGIZE OR MOCK?
BY SIR DON UBANI; KSC, JP, OKWUBUNKA OF ASA
STATE PUBLICITY SECRETARY, PDP, ABIA STATE.
8TH JANUARY, 2018.
The attention of the Peoples' Democratic Party in Abia State has been drawn to spurious, derisive and scornful announcements by the All Progressives Congress in the State.
According to a report by Taiwo Ojoye of Punch.ng of Sunday 7th January, 2018, the State Publicity Secretary of APC in Abia State; Mr Benedict Godson, was quoted to have said that President Buhari, his Vice, Osibanjo and the National Chairman of their Party, Chief Oyegun will grace Abia APC mega rally at Umuahia on Tuesday 9th of this month.
As a Party that upholds the tenets of universal democracy, the Peoples' Democratic Party in Abia State would naturally like to welcome APC to Abia State, a formidable stronghold of PDP in Nigeria.
But after going through the reports credited to the spokesman of the very weak, uncordinated and roundly discredited opposition Party in the State, the PDP in Abia State has no option but to reaffirm the obvious.
In the first instance, for APC to claim that it will use the so-called mega rally to announce it's preparedness to take over governance in Abia State simply means the Party is still a victim of self delusion and gross insensitivity.
President Buhari, who made it unequivocally and vindictively clear that Abia, having voted for former President Goodluck Jonathan in 2015 presidential election, is among the states that can not receive more than five percent of patronage from his government and out of sheer hatred and vindictiveness, has not considered it necessary visiting Abia State more than thirty-one months after he had assumed office.
The only thing the President considers important is to visit the State for him, according to Mr Godson, to cajole APC in the State to 'express it's loyalty to him and support him to run again in 2019 presidential election.
Ordinarily, PDP in Abia State has expected that President Buhari's visit would have two missions.
The first should be for the President to apologize to the hard-working people of the state for having grossly, purely out of incompetence, mismanaged the nation's economy and, thereby, putting the people in unprecedented hardship and suffering.
Again, in coming to Abia State, humanity demands that President Buhari would, unconditionally, express remorse to parents and relations of the many innocent and harmless Abia youths who were brutally murdered last year on the inhuman orders of the President and Commander-in-Chief of the Armed Forces of Nigeria.
The tears in the swollen eyes of the affected parents and relations have, no doubt, refused to ebb. A question that must be asked here, therefore, is, is President Buhari coming to apologize to us or mock us in our hardship, sorrow and tears?
The mega rally, according to Mr Godson, will be used to receive 'prominent politicians of Abia extraction, such as Chief Orji Uzor Kalu, Dr Uche Ogah, Chief Chinenye Ike and others who thought it wise to join the Party in the last few months'.
The PDP in Abia State does not consider this aspect as being news worthy. This is because In Igbo traditional wisdom, the man we know too well will not marry our daughter.
If APC feels excited that a man who has no iota of credibility, a man who laid the foundation for penury and misery in Abia State, Chief Kalu, a man that should long have been languishing in jail, is now her arrow head in Abia State, then the Party must be living in sharp contradiction of all her claims against corruption and would have shown it is thousands of kilometres away from the realities in Abia State.
The three major characters APC said it would receive next Tuesday were formerly renegades in PDP. Both their pedigree and antecedents are well known by the PDP in Abia State.
It was only in PDP that they managed, due to the formidable machinery of the Party, to have electoral value. Since Kalu, for instance, left PDP in 2007, it has been electoral failure upon failure.
For such political derelicts to be the prime movers of APC in Abia State, PDP can as well go to sleep because Abia people know that they are only a bunch of liabilities.
Another point Mr Godson made which portrays the depth of insensitivity of APC to the sensibilities of Abia political reality is his assertion that his Party does not believe in zoning of governorship in Abia State.
This stand is a very dirty, indecent and ridiculous attempt to insult the collective Intelligence of the founding fathers of Abia State.
Abia State is a creation of the collective dreams and aspirations of the elders of the State led by the late Premier of defunct Eastern Nigeria, Dr M I Okpara.
They foresaw a state where, in the absence of equity, justice and fairness, rancour and enmity would be the order of the day. They, therefore, were proactive in addressing such a situation.
Their thoughts and dreams were encapsulated in a beautiful document aptly entitled Abia Charter of Equity.
By this charter, power is designed to rotate among the different geo-political components of the State. This is to allay fear of marginalization and guarantee peace in the polity.
If they are not merely driven by mischief, it could be assumed that APC chieftains in the State have not had time to peruse the charter or they read it with a high degree of inexplicable incomprehension.
Meanwhile, PDP applauds the APC spokesman in Abia State for acknowledging and admitting that his Party has no record of achievement since it came into power in Nigeria on May 29, 2015.
Knowing that there is no substantial achievement to point out, he painfully and, I am sure, regrettably said that his Party's achievement has been the "provision of level playing field for all political parties to pursue their 'agendas' without the fear of intimidation". What a pity!
For the records, APC in Abia State should try and come out of its cocoon. It is painfully unfortunate and quite ironical that while Arewa Youths, Afenifere, Niger Deltans, the peoples of Middle Belt where Buhari's Fulani kinsmen have been slaughtering them in thousands without any quantifiable measure to bring the rampaging jihadists to book, Ohaneze Nd'Igbo, religious leaders in Nigeria, the academia, The Economist of London and even the wife of the President, Aisha, have passed a vote of no confidence on the President, APC in Abia State is only gullibly hurrying to ask the failed President to run again in 2019 so that he could accomplish his mission of vendetta against Nigerians, especially the Igbo.
State Publicity Secretary.