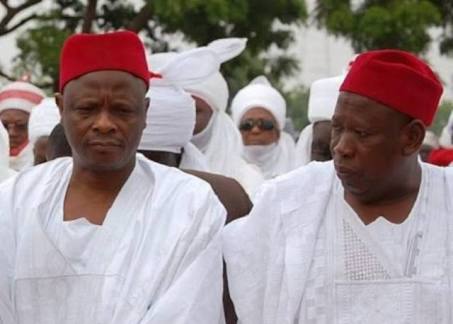 As the atrocious war on who controls the political soul of Kano state come 2019 hots up between incumbent governor, Dr. Abdullahi Umar Ganduje and his predecessor, Senator. Rabiu Musa Kwankwaso, senator representing Kano Central district, a docu-movie outlining the developmental stride of the former will be released soon.
The documentary movie which captures the Ganduje Administration's efforts to improve the lots of its populace titled, Ganduje: Gandun Aiki is currently been updated to contain new achievements of the administration.
The flick was earlier slated for release on May 29th, last year but for some minor hitches. This development informs why it's being updated now. The official release is now fixed for sometime in March, this year.
A brainchild of Hotman Movie in conjunction with Jarat Marketing Services and heralding the Gandujjiya Film Series, the movie has Salihu Othman Isah, popularly known as Hotman who received the 'Queen of Nollywood Leadership Award of Excellence' in Ludwigshafen, Germany in December, 2016 as scriptwriter and executive producer.
Subtitled in English, Ganduje:Gandun Aiki features among other renowned acts such as Shehu Hassan Kano, Umar Gombe, Ladidi Fagge, Mustapha Musty, Alasan Kwalli, Shuaibu Yawale, Maryam CTV among others.
The story captures the two and half years of the Ganduje administration in real life events and laudable programmes as well as projects of government and in dramatized format using the normal dramatic medium.
Directed by Hauwa A. Bello, a renowned lady director in Kannywood, the Hausa section of Nollywood, she is assisted by Abdullahi Amdaz who also screen-played the movie which promises to be a hit.
Some of the areas highlighted where the government has achieved are agriculture, education, healthcare delivery, provision of portable water, construction of road networks, including flyovers and underground roads, especially the one in Madobi town, refuse disposal/sanitation and sponsorship of mass weddings among others.
There are also clips of his inauguration, empowerment of women and youths as well as emphasis on Gov. Ganduje's philosophy of work, work, work which has now become the signature expression of the administration.