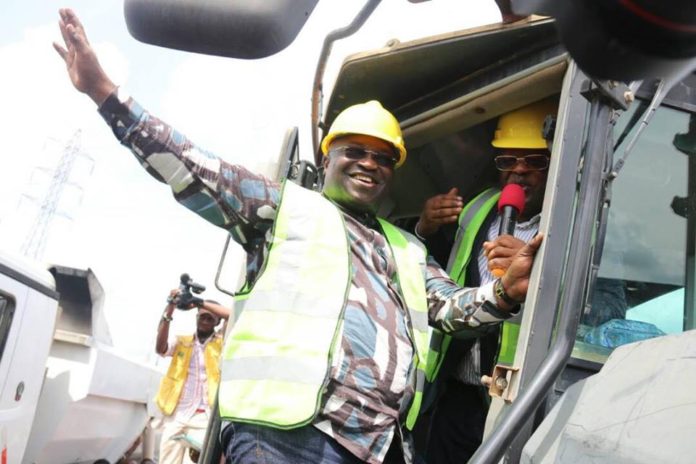 By John Okiyi Kalu
John 1:39
Worldwide English (New Testament) (WE)
Jesus said, `Come and see.' They went and saw the place where Jesus was staying. The time was about four o'clock in the afternoon. They stayed with Jesus the rest of the day.
When folks read about the massive developments being witnessed in Abia State, since Dr Okezie Ikpeazu took over the reins of power on May 29th 2015, many who live outside Abia State understandably express reservations because they can't imagine a Nigerian Governor, who was harassed on many sides by his opponents and still fighting two court cases against his election, achieving so much at a period of national economic downturn.
It is also a well known fact that Governor Okezie Ikpeazu deliberately sought to go about his duties without making much noise in the media.
The silent Achiever.
After the Governor's election in 2015 he ordered that billboards with his image be pulled down, instructed his media management team to go low key, practically disbanded all the traditional "political otimkpu" channels and opted to "Face Work" rather than "Face Book".
In 33 months of his administration, Governor Ikpeazu possibly spent the least, compared to his peers, on the media as he decided that his work should ultimately speak for him before the people that really matter to him: the great people of Abia State.
Ordinarily, the Governor will still prefer to be the "silent achiever" but current realities may have jolted him to take some measured actions to show the world what most citizens and residents of Abia State already know: Abia is on the forward march under Ikpeazu.
While Governor Ikpeazu continued to work quietly and have achieved great strides in leadership, his opponents were working hard to claim his achievements or pass them off as "nothing much".
For instance, when Governor Ikpeazu constructed and commissioned 38 roads in 30 months they claimed it was NDDC or "Federal Government". When he built an Investment House they said it was a world bank project and when he started Osisioma Interchange project, which is the first ever Flyover in Abia since creation, his opponents claimed he was constructing a borehole at Osisioma. Even PH road that he is currently reconstructing is passed off as the work of Coca Cola Company.
Even with mounting evidence of opposition sponsored lies and misinformation, it still took a lot to convince Governor Okezie Ikpeazu to engage with the Media and showcase the achievements of his administration, the way his much less illustrious colleagues are doing.
The Governor, who prefers to rely on the ultimate triumph of truth over falsehood, finally agreed to invite Media practitioners, clerics, traditional rulers and stakeholders to "come and see".
Starting from Monday, 12th of February 2018, all major Media practitioners in Nigeria will join Governor Okezie Ikpeazu on a tour of all the projects his administration embarked on since 2015. They will be joined by the leaders of Abia State, party stakeholders and other residents of the state to see for themselves what have been done so far and also listen to the going forward plans of the Ikpeazu led administration.
The tour will take them to 38 completed road projects and about 96 other ongoing projects that easily remind one of the exploits of Late Chief Sam Mbakwe of old Imo State. From the front seat they will also see the agricultural projects that made Governor Ikpeazu second only to Late Dr M I Okpara with 7m tenera palm seeds already planted out of the targeted 10m new palm trees, the technology driven ultra modern mushroom farm helping to create food and jobs, Abia poultry cluster, Abia's new healthcare intervention systems aimed at extending life expectancy in Abia State, the structures supporting improved ease of doing business in the state, social investment programs targeted at the lowest income earners and other interventions aimed at promoting enterprises in the state and many other projects scattered across the state.
By inviting Media practitioners to "come and see" the Governor is hoping that the era of under reporting and wrong crediting of his achievements will come to an end.
The Special invitation to the clergy in Abia Stare is expected to save our men of God from going to hell because of dishing out wrong information from the pulpits. It is fair to let them know/see the TRUTH about the developments in Abia State which will in turn set them free from joining the bandwagon spreading lies and misinformation to the people of God.
Our Royal fathers and stakeholders living in the state are witnesses to the developments in their areas of domicile but will also have the opportunity to see developments at other areas of the state while common folks who benefit directly from the giant strides of Governor Ikpeazu will have the opportunity to express their feelings on the impact of those projects in their lives.
Governor Okezie Ikpeazu has certainly not done all there is to do in Abia State but in the past 33 months he has been doing as much as possible to serve the people who placed their electoral confidence in the son of a school teacher and rejected helicopter flying big men who only come to Abia when it is election time.
In the book of Psalm 66: 5, King David said: "Come and see what God has done, his awesome deeds for mankind!".
God is good to us in Abia State and He alone gave us a Governor after His own heart. We are therefore proud to invite Media practitioners, national and state leaders of PDP, traditional rulers, clergymen and stakeholders in the Abia project to come and see what God is doing in God's Own state using Dr Okezie
Ikpeazu.
Welcome to Abia State, God's Own State, as you come to see and verify what you have heard and read.
Happy Sunday