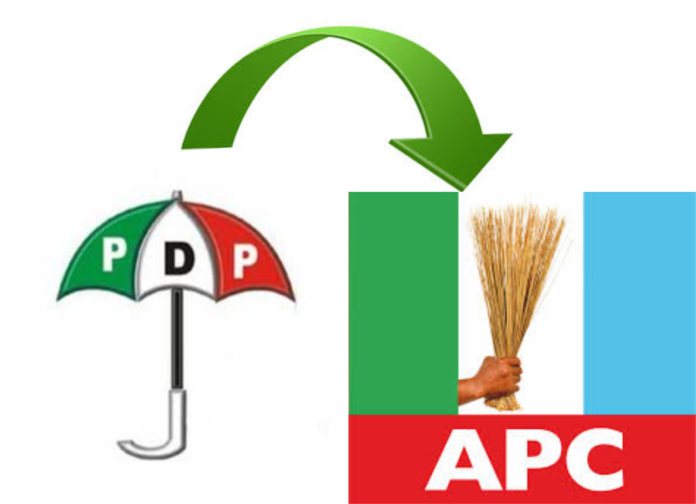 The Ekiti State chapter of the Peoples Democratic Party (PDP) has accused the All Progressives Congress (APC) in the state of trying to blackmail heads of Federal Government's agencies in the state ahead of the July 14 governorship election.
In a statement by its Director of Media and Publicity, Lere Olayinka, the party described the alleged blackmail as a sign of perceived deceived in the governorship polls.
"The party (APC) is already smelling defeat in the July 14 election and now desperately lying against credible Nigerians, who may have refused to be compromised," Olayinka said on Wednesday.
The PDP, speaking through the Kolapo Olusola Campaign Organisation (KOCO), said its candidate, Prof Kolapo Olusola, would however not be deterred by the plans it believes was aimed at losing focus.
The party also decried a situation whereby Governor Ayodele Fayose would be accused of holding regular meetings with State Coordinator of the National Youths Service Corps (NYSC), Mrs. Nwanu Ukagha.
It stated further, "If they like, they can engineer the transfer all heads of federal agencies here in Ekiti, they can't transfer the people of Ekiti that will vote against them on July 14."
According to Olayinka, the APC engaged the services of some security organisations, media and other institutions owned by the Federal Government in the state.
"They have written petitions against almost everyone working in federal agencies in Ekiti State. The federal radio, police, DSS, NTA, Civil Defense, NYSC have not been spared by the APC desperadoes who are always willing to compromise the integrity of everyone and the moment you refused to be compromised, they raise petitions against you.
"It is on record that seeing the deplorable condition of the NYSC orientation camp at Ise-Emure when he visited the camp in February 2017, he openly promised the release of N20 million naira for the renovation of the camp. Kia Cerato car for your state coordinator. The governor also donated a Kia Cerato to be used as an official car by any NYSC Director posted to the State."
Despite the allegations, the party reiterated its commitment to emerging victorious as the people of the state will decide who governs them for another four years.
CHANNELS