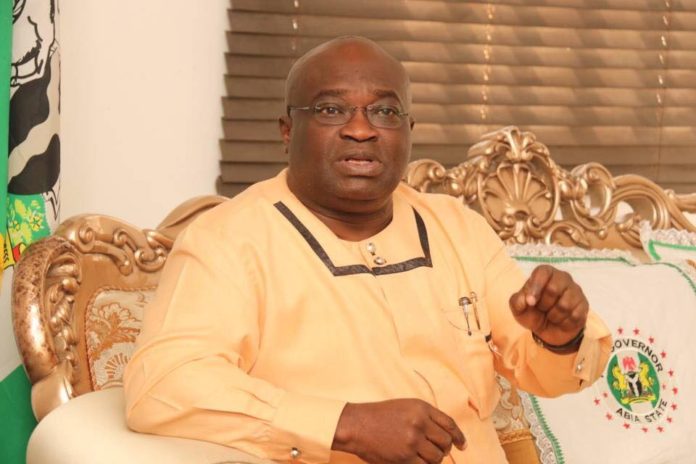 Abia State Governor, Dr. Okezie Ikpeazu has given assurance that all outstanding arrears of salaries owed all the categories of workers in Abia State will be cleared latest by December 2018.
The Governor gave this assurance while inaugurating the Special Committee he set up to ensure the realisation of this objective.
A Statement by Sam Hart,Special Adviser to the Governor on Communications said Ikpeazu reiterated that the State has been up to date with salaries of staff of Ministries and most Parastatals noting that it was the salary of teachers and a few Parastatals that had issues.
He called on Heads of Tertiary Institutions and money-yielding Parastatals in Abia State to take a cue from the ingenuity of the Vice Chancellor of the Abia State University by judiciously managing resources available to them while prioritising remuneration of their staff warning that Heads of Agencies who persist in mismanaging their Agencies and causing salary delays will be relieved of their appointments.
He expressed sadness that the issue has lingered for a while and charged the committee to expeditiously work out the modalities for the commencement of payment of all outstanding salary backlogs.
The Governor assured that Pensioners are also being accommodated in the arrangements being made and noted that Labour Unions will be carried along when it is time for disbursements.
Members of the committee inaugurated include
1. Mr. Obinna Oriaku, Honourable Commissioner for Finance.
2. Mr. Udochukwu Ogbonna, Chairman, Abia State Internal Revenue Services.
3. Sir Gabriel Onyendilefu, Accountant General, Abia State.
4. Chief Sam Nwogu, Chairman, ASOPADEC
5. Rt. Hon. Christopher Enweremadu, Hon. Commissioner for Local Govt. & Chieftaincy Affairs.
6. Sir Onyii Wamah, Head of Service of Abia State and
7. Engr. Emma Nwabuko, Principal Secretary to the Governor.
The Committee has began work in earnest.