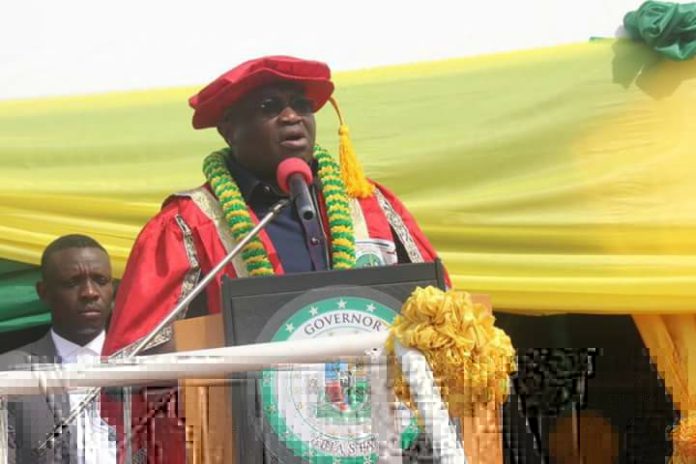 On Monday, August 6, 2018, all roads lead to International Conference Center, Umuahia, Abia State, for a book presentation written by Abia State University, in honour of a man whose humility can only be equated with that of the biblical carpenter of Nazareth; A creative thinker; The doer of deeds; A foresighted seer, who made us believe that nothing is ever beyond our reach ; A man whose journey to apex seat of Abia State, replicates the biblical Psalms 113:7; A victor who wins the night and still conquers the day; A man whose steadfastness to service is unmatched; A renowned and remarkable scholar of our time.
Friends, I'm talking of no other than the Governor and Visitor to Abia State University, Okezie Victor Ikpeazu, Ph.D.
This book appropriately titled, "The Scholar in Governance- A Kaleidoscope on Okezie Victor Chibuikem Ikpeazu, Ph.D", will be reviewed by the Vice Chancellor, Rivers State University of Science and Technology, Professor Blessing C. Didia, under the distinguished Chairmanship of His Excellency, Chief Emeka Anyaoku, GCVO,CFR,CON. (Former Secretary-General of the Commonwealth of Nations).
At this Juncture, it is therefore wise to salute the 7th Substantive Vice Chancellor of Abia State University, Distinguished Professor E. Uche Ikonne and off course the entire University community for this initiative.
On that note, the Vice Chancellor, Professor E. Uche Ikonne, with the consent of the Governor and Visitor to the University, humbly and respectfully invite Members of the Academia, Government functionaries, alumni, friends and lovers of Abia State to this landmark event, as it promises to be memorable.
Ahamefula Israel, a Bureaucrat, sent in this piece from uturu,Abia State. Email- anyameleisrael@gmail.com