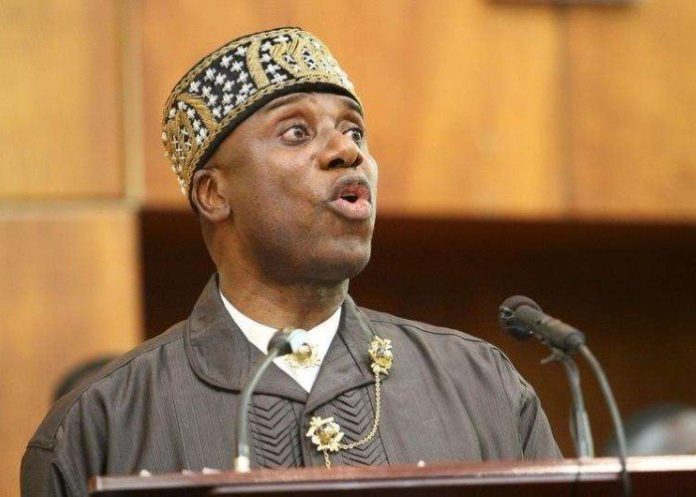 Minister of Transportation and the Director-General, President Muhammadu Buhari re-election campaign committee, Rotimi Chibuike Amaechi, has urged Nigerians to reject the return of the Peoples Democratic Party (PDP) in 2019.
Has your ministry done enough to sell President Buhari in 2019?
I thought the first thing in the minds of any Nigerian is how to feed first, right? It is only when a Nigerian feeds that he or she can think of voting. The president is not doing all these because he wants them to re-elect him or not, he is doing it to satisfy himself. The president is asking, all those days we used to get $110, $120 for a barrel what did we do with them? That is why when these people come together and say they want to fight us, I laugh.
Have Nigerians forgotten so fast that we had money all these while. We have put in $200 million into this project and how much is that amount? It was less than N72 billion at $150. Why can't somebody say here is N72 billion, go and complete that project. The president insists that we should do a sea port in Warri and we have gotten a company to do that.
APC appears to be in tatters, what is your take on the state of affairs?
It is not true. Unfortunately I don't want to speak about it but you have put me under pressure. Let us look at it, no matter what you do, the governor of Sokoto state, for instance, will naturally leave the party because he has the ambition of becoming the president in 2019 and even if you take a chicken to him, he will still leave. It is the same with Kwara. These are people you expect they will leave. They left with members of the National Assembly but fortunately they came from the areas that Mr. President is very comfortable. Do you honestly believe that the President will lose election in Sokoto? The state is one of his comfort zones.
Tambuwal's aide as chair
The next persons that left are from Bauchi and if you bring the president on a sick bed in Bauchi, he will win the state. He has never lost election in that state. If you bring him on a sick bed in Kano, he will also win. Well, that is being arrogant on our side.
Again, you will say that it happened during our time, but we sold our candidate one year ahead of the election. They are doing it just six months to the election. It was clear who will be APC presidential candidate one year ahead of time.
Don't you think that people will be surprised hearing you defending the APC passionately when there was speculations that you are on the other side?
One thing about me in the political history of this country is that nobody has doubted where I stand. One quality I have is that Nigerians believe that I am honest. I am not the type who combines alcohol and water. If I like alcohol, I like it and if I like water I like water. I don't hide my feelings.
What is your reaction to the speculations that you are no longer President Buhari's campaign DG?
My answer to that is for God to bless those with such speculations. Anybody can be DG; it is not a difficult assignment. DG is somebody who plans campaign. We will know whoever that is in charge. But seriously speaking, my position as the DG has never been in doubt.
How sure are you that APC will win in 2019?
You are ascribing the role of God. It is only God that can say for certain that the APC will win or not. But what is clear is that if you remove God element, I think we are prepared to coast to victory. Nigerians will certainly reject a second looting because we cannot survive it.
Please name the rich men in Nigeria. 60 per cent of the rich men in Nigeria depend on government. Just only three years they removed their mouth from the breast milk, everybody is complaining. I honestly say that Nigerians are part of the problems.
If I a Minister steals say $100,000 from my ministry and give out, they will say that I am the best Minister. They will say that I am so generous without asking how I got the money. You will give your wife $50 000 who gives her mother from it, buys melon from it, the market woman pays school fees, the school pays the carpenter who fixes the doors, who buys uniform for his child, and the tailor who produced the uniform pays for another thing. This is how the economy of Nigeria runs and we are saying that it can't just continue like that. The economy has to be productive and that is what Mr. President is saying. If you want to have access to the national economy, everybody must have an access not only few persons who loot the economy of Nigeria.
But do you have the rectitude to accuse the PDP of looting when you were a beneficiary of the system for 16 years?
What I usually tell people is that there are people in the other camp that believe that Amaechi cannot collect the money. Even those who criticise me in Rivers State believe I have a good reputation. I always ask, what do I need this money for? I don't smoke and I don't drink. I don't believe in luxurious houses or cars.
I feel that Nigerian politicians commit what I may call manslaughter, which is killing by accident. We kill by accident because the money meant to build hospital we divert to private use without building the hospital. Consequently, Nigerians will go to the hospitals without drugs and other facilities, resulting in their deaths.
Painfully, Nigerians don't hold the politicians accountable. I always give this example where a newly elected councilor goes to church for thanksgiving after six months, the pastor or priest will be so happy that he sings, 'it shall be permanent'. I asked him, what is it that you are making permanent? Is it the stealing he did, which you should have prayed to God to forgive him or to permanent the car he got from proceeds of stealing. Nigerians don't ask how politicians get their wealth.