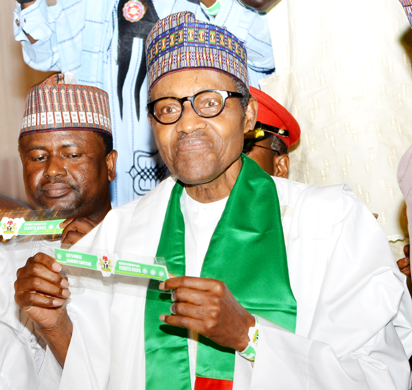 Ahead of the 2019 general elections, President Muhammadu Buhari, Thursday, in Abuja, unveiled Buhari Unity Band, BUB, a brainchild of his support group known as Good Governance Ambassadors of Nigeria, GOGAN.
Speaking at the launch of campaign wrist bands, President Buhari lamented the prevailing threats in Nigeria as elections draw near, but assured that the country would emerge stronger despite the odds besetting it with the resolve by the citizens for a united nation.
The President also said his administration was doing all it takes to promote togetherness as well as cement cordial relationship among the citizens, adding that the coming together of the group made up of people of ethnic background was an indication and demonstration of the determination of his administration to see that Nigeria succeeds.
He said that no nation can make progress without unity, noting that despite some challenges that tried to tear the country apart, it had always emerged stronger from such crisis.
President Buhari who said that he remained committed to the national unity, said, "By the grace of God, we shall remain strong and united."
Chairman and National Coordinator of GOGAN, Felix Idiga in the launch booklet, said the birth of BUB, was to humiliate and shutdown the "malicious" plans of the opposition and every dissenting voice.
Idiga decried what he described as 'senseless looting' of the national treasury, which according to him, unites desperate politicians regardless of their different ethnic and religious groups. He said, "But when they are picked to face the wrath of the law, they cry marginalization and begin to fan the flames of disunity and unrest in the country."
Continuing, he said BUB's launch of the wrist band was to give all Nigerians who support the President and Nigeria's unity, something to show for their solidarity and which they can wear with pride. "Our ultimate goal is to make all Nigerians peace ambassadors of our country by uniting them with the national outlook for excellence in visual identification symbol.
"It is a symbol with a loud declaration by Nigerians; a slogan which says: no to united looters, yes to a united Nigeria."
National leader of the All Progressives Congress, APC, Asiwaju Bola Tinubu who was Chairman of the occasion and also a patron of the group was represented by Senator Kabiru Gaya. Also on the list of patrons of GOGAN, is the business magnet from the South East, Prince Arthur Eze as well as Mamman Daura.
Also present during the launch were Secretary to the Government of the Federation (SGF), Boss Mustapha, who is also one of the patrons of the group, members of the National Assembly, the Federal Executive Council, Civil Society Organisations, members of the diplomatic Corps as well as Presidential aides.
Campaigns for the 2019 general election will officially open on Sunday, according to the timetable presented by the country's electoral umpire, Independent National Electoral Commission, INEC.