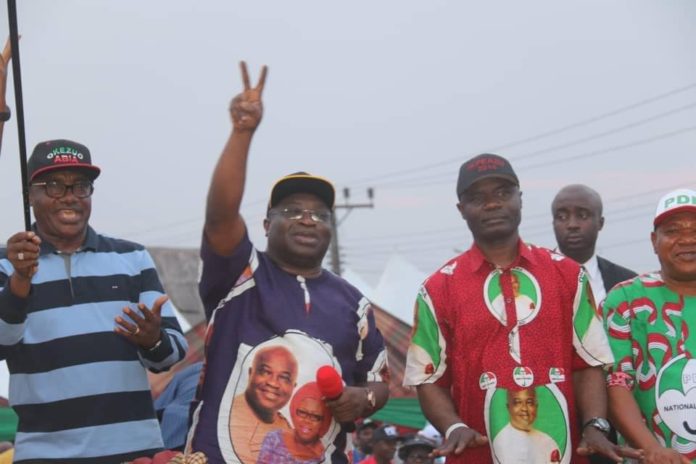 Abia State Governor, Okezie Ikpeazu has officially kicked off his 2019 electioneering campaigns ahead of the March 2nd governorship elections.
His first point of call was Arochukwu Local Government Area.
Speaking at the event, Governor Okezie Ikpeazu which was held at Aggrey Memorial PPrimary School field, Ibom Arochukwu, saideople of Arochukwu in 2015 gave their overwhelming votes for the party.
He said having finished the Okobo bridge, the idima/Abam road which is under construction would soon be ready, while promisin to ensure the completion of Ndi-Oji/Ndi Okereke Road after the 2019 elections.
He insisted that equity must take it's cause and called on them to ensure that all her candidates at the forth coming elections are voted for.
Senator Mao Ohuabunwa, and House of Representatives member for Arochukwu/Ohafia Federal Constituency, Uko Nkole took turns to woo the people to vote the umbrella at the forthcoming elections.
The Governor also had interactions with the monarchs, Christian community and the Eze's in council.