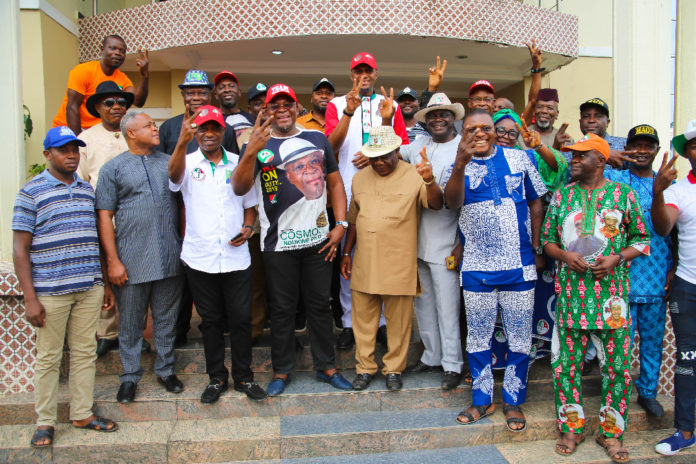 The ruling Peoples Democratic Party PDP in Bende yesterday flagged off their ward campaign tour in Item. The flag off which attracted a mammoth crowd of supporters and voters also afforded the party and her critics the opportunity to evaluate their acceptability in the area.
The party which parades a Line up of popular, acceptable and formidable candidates in the forthcoming elections, showcased their "winning" team to the people of Item. The party's House of Representatives Candidate Dr Chimaobi Desmond Anyaso who spoke to the excited crowd of supporters assured them that he would bring unparalleled development to the area. Dr Chima promised the people of Item that he would replicate what he did in Igbere his home town where he built a tuition free nursery and primary school for indigent children. While he was speaking, a little girl approached him and he immediately picked her up and offered to train her on scholarship to secondary school. His kind gesture impressed the crowd of supporters who cheered him and assured him of their votes come 16th of February.
The deputy speaker Abia State house of assembly and PDP house of assembly candidate for Bende north state constituency, Dr Cosmos Ndukwe reminded Item people of the importance of voting PDP. According to him, the many projects scattered all over Bende are projects of the PDP and he also assured them of more. Also at the rally was chief Emmanuel Ndubuisi PDP Candidate for Bende South South Constituency who was on ground to make a case for PDP's success in the February 16th National Assembly And presidential elections as the only way to guarantee all round success for the party in the forthcoming elections.
After the rally, the PDP entourage proceeded on a scheduled visit to the traditional council of the area where they received assurances of total support and commitment to the Victory of the party from the royal fathers. Speaking during the visit, the vice chairman Okoko Item traditional Council HRH Eze Jerry assured the PDP delegation that as custodians and defenders of the land and its inhabitants, they will never sit idle and watch Bende slip into the hands of those who do not mean well for the people. The Ezes promised to ensure that the will and desires of the people comes to fruition.
The DG of PDP campaign organization in Bende chief Emma Okwu Rocks opined that PDP remains the most democratic, stable and people oriented Party in Nigeria.
He stated that PDP is prepared for victory in the forthcoming elections and therefore Item people should key in and be part of the success story of the party at state and national levels.