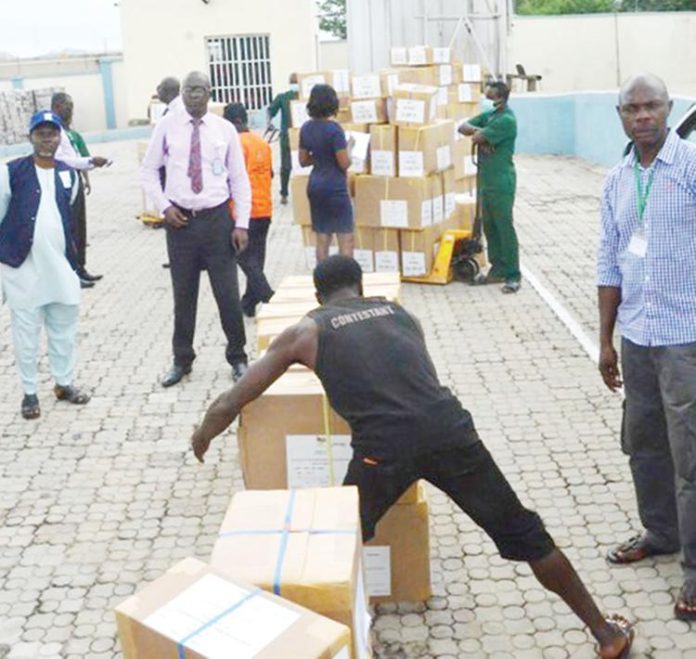 The Independent National Electoral Commission (INEC) has begun the Distribution of Sensitive Materials to the 17 Local Government Areas in Abia State.
Speaking on behalf of the Commission in Abia,Mr Bamidele Oyetunji,in charge of Publicity for INEC in the state said the Independent National Electoral Commission is prepared for Saturdays Presidential and National Assembly Election.
While Answering Questions from Newsmen at the State Headquarters of the Commission, Mr Bamidele said the Distribution of the Sensitive Materials is to avoid any Logistics and Operational delays in the conduct of the Polls on Saturday.
"You know last week we faced a Lot of Logistics and Operational Problems, but we thank God Now,those Problems has been surmounted by the Commission, we are ready and Prepared for the Polls"
"We are sending these Sensitive Materials out Today to allow our Electoral Officers to Distribute them,if they notice any problems,they can get back to the Office"
He assured Abians that their Votes shall not be tampered with as the Commission has made adequate arrangement for a Free and Fair Election.
"During the Week,we have had two Stakeholders meeting where the Honourable Commissioner assured all the Stakeholders of a Free and Fair Election, People should not be afraid,their Vote must count on Saturday" He Said.
Responding on the Allegations made last week by the Peoples Democratic Party that the electoral Umpire did not released the Result Sheets alongside other materials, Mr Bamidele said it was a National Issue but said the Commission has resolved the Issue.
"It was a National Problem,but now it has been rectified" He Said.
He said Adequate Security has been Provided in the Local Government to ensure the safety of the Materials.