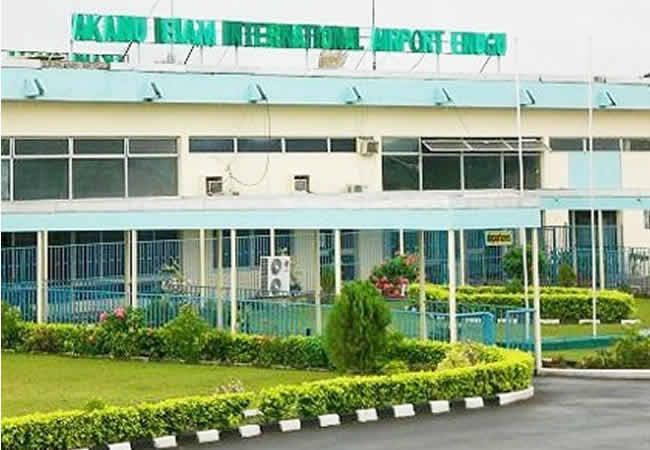 …laud Buhari and Southeast Governors.
Ohanaeze Ndigbo Youth Council Worldwide had seen the recent leaked pictures of Akanu  ibiam international Airport  Enugu by FAAN and igbo Youths sent an undercover delegation to inspect, investigate and cross check the claims of the new leaked looks of the new of the Akanu ibiam International Airport Enugu State and see the facilities installed.
OYC appreciate the new renovations  and facilities at the Airport but Contrary to Our Expectations, there is no Night Landing Facilities at the Airport, We wish to categorically reject any moves to reopen the Akanu ibiam international Airport Enugu without Night landing facilities as Igbos don't want to  believe the rationale behind the Release of the leaked pictures by FAAN was to fix a date for the reopening of the Airport, when Night landing facilities are still missing and will deny direct international flights from any part of the World to Connect Igbo land.
We wish to alert Igbos that  they should  pressurize the Minister of Aviation Sirika Hadi, to resist any temptation to re open Akanu ibiam international Airport Enugu Except that the Night landing facilities are fixed to ensure that international flights connect and land in Enugu, as we confirmed from the Contractor there's no single night landing facilities which put the status of Akanu Ibiam international Airport Enugu as a local airport,any attempt to open the airport in june will be resisted by Igbos.
OYC Commended President Muhammadu Buhari and Southeast Governors Forum led by Governor Dave Umahi for ensuring that necessary action was taken to upgrade the only Functional international Airport in Southeast but definitely want to alert the Southeast Governors  committee on Enugu Airport  Chaired by Engr Chris Okoye of the missing Night Landing facilities at the Airport which was deliberate and intentional.
Igbo Youths want the South East Governors to ensure that night landing facilities are fixed in Enugu Airport before re opening.
We appeal to President Muhammadu Buhari to direct Minister of Aviation Sirika Hadi to ensure that all night landing facilities are fixed before reopening to avoid misinformation and misinterpretation regards to the re opening of the Enugu Airport.
Mazi Okechukwu Isiguzoro
President General
Ohanaeze Ndigbo Youth Council Worldwide
Mazi Okwu Nnabuike
Secretary General
Ohanaeze Ndigbo Youth Council Worldwide