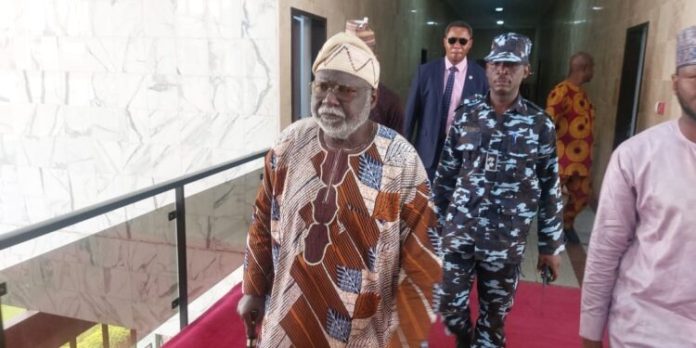 The Chief Justice of Nigeria (CJN), Olukayode Ariwoola, did not meet with Nigeria's President-elect, Bola Tinubu, in London, the Supreme Court has said.
The Supreme Court's statement is a reaction to report by an online platform, Peoples Gazette, that the CJN disguised in a wheelchair in London and met with the President-elect.
The Supreme Court's spokesperson, Festus Akande, in an interview with Premium Times, another online media, said the report was untrue.
Contrary to claims by the report that Mr Ariwoola travelled out of Nigeria on 11 March to the United Kingdom to meet with the president-elect, Mr Akande said "the CJN has been in Nigeria, and presided over meetings of the National Judicial Council (NJC) held on 16 and 17 March."
Akande disclosed that the CJN accompanied by NJC's Secretary, Gambo Saleh, only travelled out of Nigeria briefly to London on 18 March for medical care.
"On 23 March, the CJN returned from his medical trip to London and later reported in the office (in Abuja), where he worked till 8p.m.
"The only time the CJN travelled earlier this year was on 25 January, when he travelled for Lesser Hajj in Saudi Arabia. He returned on 29 January 2023," the Supreme Court spokesperson explained.
The presidential campaign team of the President-elect had described the story as a "mere salacious fiction, meant to draw traffic to the discredited purveyor."
Bayo Onanuga, a spokesperson for the president-elect's media team, who issued the statement on Friday, noted that Mr Tinubu is still in Paris, France and has not moved to London.
"We refute emphatically that there has been no clandestine meeting between the President-elect and the respected Chief Justice of our country, anywhere. It's pure fabricated news, groundless in fact and authenticity," the statement read.
The Nation