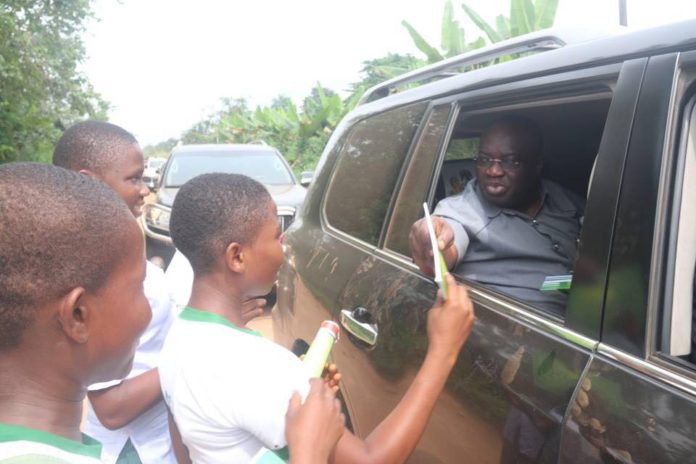 If you have ever had the opportunity of seeing the trunk of Governor Okezie Ikpeazu's staff car, or even his spare car, and see the books in there, you will naturally wonder what the Governor is doing with the books in his boot.
The books in the Governor's boot belongs to pupils and students he meets on his way…anywhere he goes, he shares the books to pupils and students he sees on his way.
This practice didn't start today, it actually started during the 2015 governorship election campaigns, after speaking to prospective voters then, anywhere we see students on the road, he will stop the vehicles and share books to them.
Some of us thought it will end after his swearing in as governor, but it never did.
To date, the Governor is still carrying books in his car trunk and he is apparently not tired of giving them to students he meets on his local travels.
Today, while on his way to Ntigha in Isialangwa North from Ikem Nvosi in Isialangwa South, somewhere around Okpuala Ngwa Hospital, he saw these students returning from school, he stopped the convoy, wound down the glass of his official car and invited the uniformed school children to come.
As the students approach his car, the Governor was ready with the books from his boot, and he gave them the best gift you can offer a pupil-exercise books.
And then his consistent message: "please read your books…obey your parents and teachers. I am sure that one of you will be Govenror in the future. If the child of an ordinary school teacher like me can be Governor, you too can be Governor or even President".
You can only imagine the joy of Abia school children as these receive their best gift from their Governor, even as they watch as his convoy moves along.
Uncommon touch is in Governor Ikpeazu's blood.
• Appolos writes from the Ancestors Court