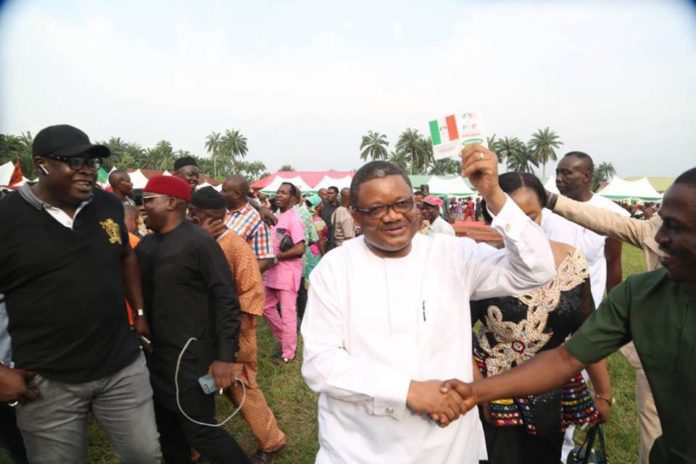 A 2015 Factional Governorship Candidate of the All Progressive Grand Allaince(APGA) and now a Member of the Peoples Democratic Party Chief Reagan Ufomba has said that the PDP will win the 2019 Governorship in Abia State by Landslide.
Chief Ufomba also said hewill resign from politics if APGA scores half the vote the party scored in 2015 again.
In a Post on Facebook Titled "What Governor Okezie Ikpeazu Told Me" said APGA lacks the capacity in terms of exposure, experience To play National Politics.
.
"I must admit that APGA, which operates only from a tiny town of Agulu lacks the capacity in terms of exposure, experience, wisdom, spread, numbers, men, material, and therefore the required strength to play national politics in defense of the Igbo cause and redefine the naked social inequality in our polity".
He said only the Peoples Democratic Has what it takes to play National Politics
"So much is at stake nationally that require time-tested men like us and time-tested party like the PDP to salvage. It is therefore no time to be selfish in one's political pursuit or senseless in wisdom or tongue in cheek in our utterances".
Chief Ufomba said he was not ready to join issues with those abusing him for dumping the All Progressive Grand Allaince(APGA)
"I have read some silly comments from drowning political nitwits. I must state with emphasis that Ochiagha Reagan Ufomba will not jump into the mud with scavengers".
"It is their entitlement to mourn over their lost jewel, and cry irresponsibly like the animalistic cock they are, but not insanely mimick the owl or bark like a toothless bulldog as they're doing right now. I do not envy them either".
"Politics is a game of numbers and not a contestation of madness or beauty or media hype or even ugliness. I am very confident that, even if they were, we shall trash them silly at the polls considering the physical dwarfs, intellectual liliputs and very ugly nauseating half creatures that populate that band of 'cultural organization' by whatever name called".
"Take it from me, PDP will win landslide in the 2019 governorship election. I will resign from politics if APGA scores half the vote we scored in 2015 again". He Said