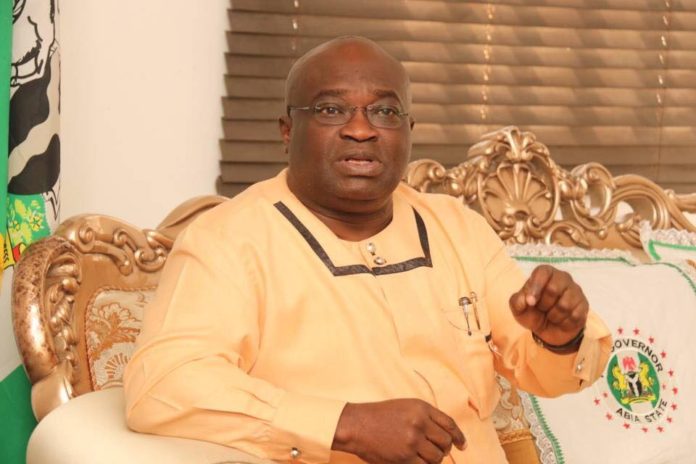 Abia state with a population of more than four million persons currently maintains a total workforce strength of 37,000 with 16,000 employed at the local government while 21,000 are employed by the state government.
Below is the composition of the current monthly wage bill of Abia State:
Local govt workers (including Political appointees)..N930m
Primary school teachers…N750m . Local Govt pension….N340m
Total N2.02b
For State workers, we have the following:
Ministries, Departments and Agencies (MDA)……N1.1b ..(from N1.5b)
State workers Pension….N400m Secondary Sch teachers….N460m
Parastatals……N450m
Total N2.41b
In summary, our LGAs and State wage bills, combined, average N4.42b monthly.
Feel free to check the wage bill of other south east states and confirm that Abia is not only carrying the heaviest wage bill but is also paying the highest rate per worker.
The Government of Dr Okezie Ikpeazu resisted temptations to pay percentages of salaries even during the worse months of the recession. For instance, in November 2015 our 17 LGAs got N1.2b in allocations while the state got N1.6b. Our wage bill then was higher than the current figures as we were yet to fully execute the BVN based verifications.
In a recent report published by BudgIT on ability of states to meet recurrent expenditures, the independent organization put monthly recurrent expenditure of Abia State at N4.78b with average monthly revenue (including IGR at N4.03b.
That report and the figures above vividly show why and how we still have salary outstanding in Abia State.
Congruently, analysis of the above figures obtained through the Commisioner for Finance in Abia State also indicate why we were not able to settle all the outstanding as expected on July 31st 2017 after receiving only N5.7b out of the expected N14b second tranche Paris Funds report. At best the Paris Club refunds can only take one month state and LGAs wage bill.
Permit me to inform you that Paris Club refund is not a loan or benevolent grant of the Federal Government as many assume but rather a refund of Abia's money to Abia coffers.
Our secondary school teachers monthly wage bill is currently around N460m from a previous N560m while that of primary school teachers is around N750m monthly. The reduction came from focused efforts to remove ghosts from our payroll.
After every monthly FAAC meeting we disburse funds allocated to teachers salary and some times it will not be enough to cover their wage bill. For instance, we might have N650m for primary school teachers in a month whereas we need N750m. In such circumstances we will pay those that can be accommodated by the N650m and then when we have next inflow the balance is paid to those yet to receive while some who previously received will get another payment.
In same month it is therefore possible for some teachers to get two months of salary.
At the moment, most of our primary and secondary school teachers have received July and April 2017 salary, respectively. Effectively we have 3 months outstanding for primary school teachers and 6 months for secondary school teachers since we are still in November.
Hopefully, by next week we will pay one month from November FAAC to teachers while our 67 MDAs will be up to date, including November salary.
With regards to pensions, we still have as much 8 months outstanding as state pensioners last received February 2017 payments. The government is determined to redress this situation and hopefully we will receive the promised Paris Club refunds in time to ensure that this December our pensioners and teachers join MDAs in being up to date with salaries.
Yet it is important to note that some of the pension outstanding are from 1999 to 2007 era, as recently confirmed by our pension association President via a publication in the Sun Newspapers of 1st July 2017. Part of the report from Sun Newspapers read as follows:
"Rising from a meeting at Umuahia Sub-Treasury Hall, the pensioners outlined debts owed as pension harmonisation arrears, five and half years pension arrears to retired primary school teachers from June 2002 to August 2007 and gratuities which had been outstanding since 1999." (https://www.google.com/…/abia-pensioners-beg-ikpeazu-o…/amp/)
Health Management Board (HMB) is a parastatal of Government that is ordinarily expected to deliver revenue. While HMB receives subventions from government the last payment to the workers was for May 2017. That means we have 5 months outstanding as at today.
Workers at Health Management Board (HMB) are expected to benefit from the prudent deployment of the expected Paris Club inflow.
The good news is that Aba General Hospital is set to resume full medical services to residents and visitors of the commercial nerve centre of the state following quiet restructuring efforts by the current members of HMB. Some units are already back to rendering medical services.
Meanwhile workers at Abia State University Teaching Hospital (ABSUTH) are set to call off their strike following meetings held with the government. It should be recalled that when the Ikpeazu administration came on board ABSUTH workers had 11 months outstanding which the government settled.
The wage bill of the workers at ABSUTH is by far heavier than that of equivalent institutions in the South East region. Especially that of non medical staff, even as revenue receipts from ABSUTH continues to dwindle to ridiculous levels.
Thankfully the authorities of ABSUTH have agreed to review the lopsided wage bill this month as a prelude to sorting out other outstanding.
The bottom line remains that while 66 MDAs out of 67 that make up our core civil service are up to date on salaries, we still have challenges with teachers, HMB, ABSUTH, Abiapoly and LGAs. Those challenges will be met and overcome while still delivering on key programs of the government outside wages of 38,000 workers.
Our expectation is that we will use the 3rd tranche of Paris Club refund to as much as possible pay teachers, pensioners and others with salary outstanding.