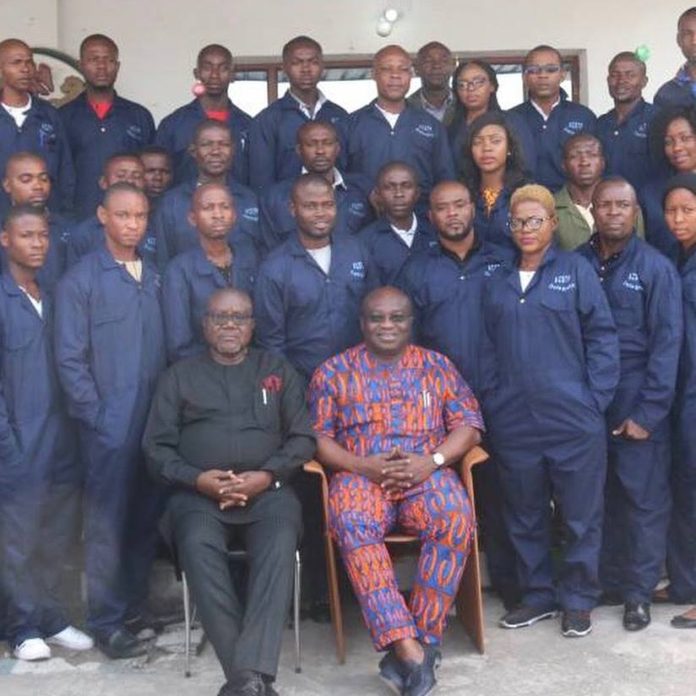 30 trainees out of 100 shoemakers are set to leave the shores of Nigeria to China for a 30 day automated shoe training programme.
The programme is put together by the State Government as part of her efforts to promote made in Aba.
Governor Okezie Ikpeazu charged the 30 youths who are set to depart for China to learn automated shoe making to be good ambassadors of the state and to justify the huge investments the state government is making on them.
Governor Ikpeazu made these remarks at the Banquet Hall, Government House Umuahia this afternoon while addressing the 30 youths at a brief departure ceremony organized by the state government.
He stated that their trip,at 100% government expense, is a clear demonstration of his commitment to the betterment of the Abia youth. He assured that 70 more will join them later in the year to make the number 100.
The 30 youths were drawn from all the local governments in the state with three of them coming from non indigenes of the state who live and practice shoe making in Aba.
He urged them to shun acts that would embarrass both the state government and the country but focus on the main business that took them to China which is to acquire the latest skills and technology in shoe making, assuring that they will form the key nucleus of the staff Abia Automated Shoe Factory that will be established shortly complete with state of the art equipment which they will handle upon the completion of their training in China and their return home.
This is the very first time this kind of exposure is being provided to Shoemakers in Aba.