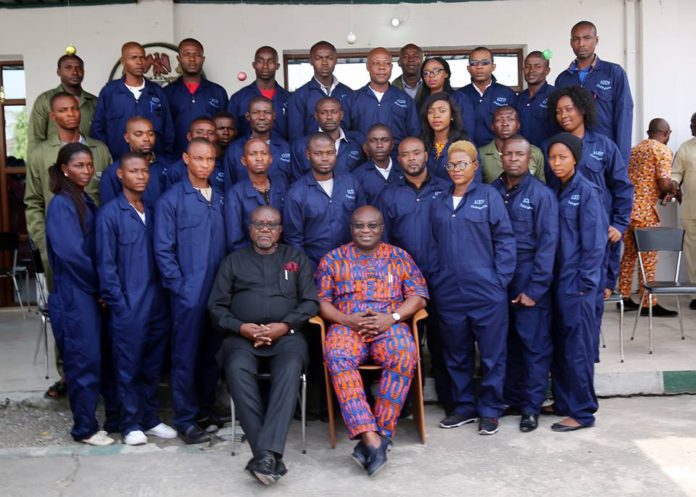 A few days ago, my good friend and Special Adviser to Governor Okezie Ikpeazu on Public Communications, Barr. Onyebuchi Ememanka tagged me to a video he shared and which he captioned, "MESSAGE FROM CHINA"
He went further to write thus, "One of the Shoemakers that went to China speaks on his experience there.
He is from Arochukwu LGA.
Please take a listen.
It's Vintage Nwa Mazi. A true son of the great Aro Okeigbo Kingdom"
As I went through the post, I discovered that it was originally shared by another Ikpeazu aide, Chinenye Nwogu who wrote, "From the horse's mouth, Abians in China for automated shoe training shares their stories"
Beholding these two brief introductory posts that explained the video, and the bold emphasis on the man being an indigene of Arochukwu, I said to myself, "these brethren are it again". I knew that the satirical onslaught was aimed at the same PDP nemesis, Alex Otti, even when I hadn't gone through the video.
As I watched and listened to the video, i was swiftly vindicated, because the utterances of the so called Shoemaker by the name Sunday Kanu showed he is a helpless fellow who was picked on the recommendation of a high ranking federallawmaker from the area , packaged and presented by the Abia state government to do a hatchet job of publicity stunt for them, unfortunately for Abia state government and the Ikpeazu immediate team, this turned out to be another horrible mistrike.
For those who didn't watch the video, here is what Mr Sunday Kanu who spoke both in English and Igbo said, "My name is Sunday Kanu, I'm from Atani Village in Arochukwu LGA.
Before I proceed to talk about what I'm seeing in China, I want to first of all thank Governor Okezie Ikpeazu, because it is said that when Train is coming, Toli is brought down.
"Since I started seeing things, I have never seen what I saw in China.
"First is that the biggest challenge we are having in China is cold, but we knew we were going to encounter that so we got prepared with our cold wears.
"Since we arrived here, we have seen good things, the man sent us here to come and see good things and we have learnt.
In Aba, Scissors, manpower and machines are all used, some times it takes one person two to three weeks to make a pair of shoe ,but the machine I saw here, the one that cuts leathers are three in number and each has its job.
From there to the tailoring section where Aba tailors that specialize in shoe ropes, the machines in that section is 168 machines.
If you go upstairs where shoes are coupled, if you go there you'll see something different.
What we have learned here is that all these things we encounter in Aba is what a white man does in a day in Aba.
Me that is here, my machine counts the number of shoes it produces in a day, there are times when my machine produces over 1,300 shoes in a day, when it takes up-to two to three weeks to produce a pair in Aba.
If you look up there, you'll find out that there are 53 machines there and the process of producing a shoe doesn't waste time, that is why I'm pleading with everyone who is a good citizen of Abia and a good citizen of Nigeria to give Dr. Okezie Ikpeazu the necessary support so that thing we saw here could be established in Abia
"Those of us who came to learn it, honestly we have learned everything concerning shoe making. The ones we learnt most were those we found difficult which we don't have.
Everyone should join hand to support him, the money being used to hire helicopters and to buy big jeeps, if it's put together can be used to open a factory, if a factory is opened then we know that the person loves his kingsmen, because what he has shown us today, in fact when I was schooling, there's a theory propunded by a Chinese Philosopher which says that, "if you are planning for a year, sow corn, if you are planning for a decade, plant a tree, but if you're planning for life, train and educate people, which is exactly what the governor has done today.
We have seen, we have been trained, we have been tapped, we have been able to tap from the technology of the Chinese man, which enables us to know all the secret in shoe production, we have learnt it.
"When shoe making started in Aba, those shoes usually get spoilt when matched on the water, we have found the secret.
I focus in finishing section, what I found out there is frightening me. In Aba we use gum, after applying small quantity, we place it on the stove, when you wear it to cross the gutter, the sole falls off in different direction while the sole magnates on one's foot.
Today we have found out that the chemical we apply in Aba, are applied and made to pass through 3 ovens, until it is applied up to 5.to 6 times so that when it is pressed together, it would be final, that is what we saw.
Therefore I'm pleading, any person that is an Igbo and any person that is a Nigerian, any person that loves Abia and Nigeria, forget the aeroplane and the big jeep they hire, join hand so that we can put Aba in order, because it is not good for us to come back and stay, it is good for us to come back and implement what we learnt so that we can bring out made in Aba shoes and made in Nigeria shoes to international standard, Ndewo"
As progressives, Alex Otti and his party APGA have always made case for human capital development to be prioritized in the leadership of Abia nay Nigeria, yet Otti and his party do not believe the desired results can be achieved if those occupying leadership position resort to publicity stunt and needless lies aimed at hoodwinking the populace in a bid to convince them that something extraordinary is happening, when the picture being painted is not in tandem with realities on ground.
For the sake of those who may have been fatally hoodwinked by the trending video, I make bold to authoritatively and factually state that the man used in that video by the name Sunday Kanu is an indigene of Nde Okoro Mgbeke, Atani Agbo Nnano, Atani Village, Arochukwu LGA of Abia State.
Mr. Sunday Kanu who happens to be one of the boys of a federal lawmaker from the area, lives in Arochukwu. He is not a shoemaker and has never been a shoemaker.
Before his name was put in the list of those traveling to China by the federal lawmaker, the said Sunday Kanu was recently given a temporary job in the local government to take record of staff who come to work by logging in and logging out their names before and after work, this won him the nickname "Log in Log out"
We do not envy Mr. Kanu who allowed himself to be used to do such a dishonorable hatchet job, knowing that he might have been a victim of institutional bullying orchestrated by hardship, we also have no problem with Abia state government taking anybody to China, after all we had seen enough across-the-border frivolities of the present governmebt, but we frown at a situation where a government would resort to impersonating genuine artisans, traders and other business men and women in a bid to impress political allies and score cheap political points against opponents, which was the reason Mr. Kanu made false and baseless claims on the workings of shoe makers in Ariaria(Like making a pair of shoe for 2 to 3 weeks), this could have come from a complete novice.
The video has vindicated the Secretary of Ariaria Shoemakers Association who had issued a Press Release shortly after the departure of the so called 30 Shomakers to China, denouncing and insisting that they are not their members.
A friend of mine who is one of the most popular fashion designers in Aba had told me how the government embarrassed them during the "Made In Aba Trade Fair" in Abuja, after the government renaged in its agreement with the selected Designers to pay each of them Four Hundred Thousand Naira (#400,000) as budgeted, and turned back to give them a paltry Fourty Thousand Naira (#40,000) each.
He said he wouldn't have expected a kobo from the government if the Trade Fair had been held in Abia, but the fact that some of them left their busy business engagements which needed their presence and accepted to go based on what they considered an honorable agreement with the government should have made the government to exhibit some honour befitting of such a sacred institution.
My friend quickly deleted himself from the Whatsaap group of the Made In Aba Trade Fair, because according to him, he had no time to deal with irresponsible people, and when he was contacted for the one they claimed would be held in the US, he asked them to go hell.
The fact that the government chose someone who has never handled a nail in his life as a shoemaker and presented him to the world as an Ariaria shoemaker speaking from China, makes the intentions of the government and its activities in China very suspicious.
The essence of that video was to tell the whole world that Mr. Sunday Kanu comes from Alex Otti's ancestral home, Atani Arochukwu, and that the Ikpeazu led government has lifted him from squalor and raised his status to that of a White House occupant, unfortunately for them, the Great Chukwuokikeabiama of Great Aro Okigbo has exposed their nakedness. Did I not warn in the past that Chukwuabiama is dangerous?
As the 2019 election draws closer, we are definitely going to watch many more stage-managed videos aimed at projecting the present government, even dishonestly while trying to ridicule its opponents, but this can never make fiction become reality, just the way a cemetery can never be a recreation center for the sane.