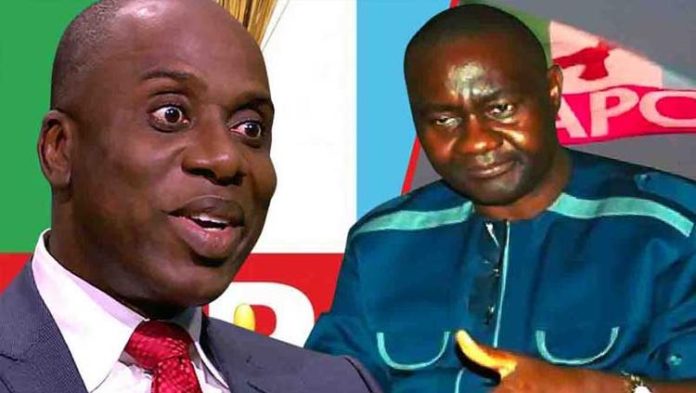 Some stakeholders in the Rivers State Chapter of the All Progressives Congress on Monday called on President Muhammadu Buhari to intervene in the crises rocking the party at the state level.
The stakeholders, who were mainly Senator Magnus Abe's supporters, also insisted that there was no ward congress in the state on Saturday, alleging that they were harassed by men of the Special Anti-Robbery Squad.
One of the stakeholders, Mr. Chidi Wihioka, representing Ikwerre/Emohua in the House of Representatives, said a senior police officer ordered that he should be arrested and detained, while his phone was seized by the police.
Wihioka stated that it was necessary for President Buhari to issue a statement to condemn the recent development in the state APC, especially as it affected the ward congresses.
He said, "If I am a member of the House of Representatives and I was detained in a ward congress, it means worst things could have happened to me if it were a bigger election.
"We are calling on President Muhammadu Buhari to intervene; we want him to issue a statement condemning what is happening in Rivers State caused by his Minister. (Mr. Rotimi Amaechi).
Also, the former Attorney General of the State, Mr. Worgu Boms, said the crisis in the state APC could be traced to the position of the former governor, who he said was against the governorship ambition of the lawmaker representing Rivers South-East in National Assembly, Senator Magnus Abe.
"The former governor has sworn that he would not be alive to see Magnus Abe become governor. He (Amaechi) has the right to say so, but he has no right to turn the entire state machinery against us (stakeholders)," Boms added.
In his remarks, another Rivers APC stakeholder, Mr. Marcus Nle-eji, said he had received calls from the Police, inviting him over the ward congresses, adding 40 members of the party were arrested and detained.
Nle-Eji said, "As I speak, I have received over three or four calls to come to the police station. How can you have a peaceful election in this situation?
"The chairman of the congress committee (Joseph Dogo) should come and tell us where the ward congress held. Let me say it clearly; there was no ward congress in the state."
Reacting, the State Publicity Secretary of the APC, Mr. Chris Finebone, said though the former governor, Mr. Rotimi Amaechi, had made it clear that he would not support Abe's governorship ambition, such position did not mean that he (Amaechi) disliked the lawmaker.
"I am not aware of when politics will descend to that level. Politics should be beyond one person liking the other. If we are to go by what Rt. Hon. Rotimi Chibuike Amaechi said; he said he would not support Senator Magnus Abe's governorship ambition," Finebone stressed.
PUNCH