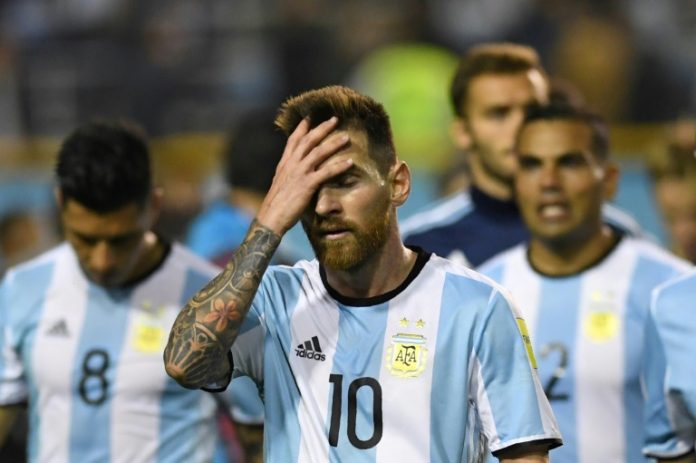 Argentina camp here at the FIFA World Cup in Russia is in turmoil. The reason for the crisis is the 3-0 defeat handed out to the Albiceleste by Croatia on Thursday night to narrow the chances of the South American nation making it to the knockout stage a difficult one.
Now, with Argentina's last Group D game against Nigeria on Tuesday a difficult battle ahead, Manchester City forward, Sergio Aguero, has hit out at Coach Jorge Sampaoli, insisting he can take a walk from the team he has mismanaged.
At the post-match press conference immediately after the loss to Croatia, Aguero was in no mood whatsoever to hang around the team as he stormed out of his very brief and heated interview.
"Let him say what he wants," said Aguero in a caustic manner to reporters in apparent reference to Sampaoli's defence of his poor tactics that failed woefully to unlock the Croatian defence.
With Argentina on the brink of World Cup elimination from the group stage of the Mundial here in Russia, Sampaoli admitted that his 'project has failed' and that he struggled to find a system to get the best out of Lionel Messi and Co.
Sampaoli refused to blame Messi for the inability of Argentina to pick a point from the match.
He also took the blame as he tried to deflect the criticism from a terrible goalkeeping mistake by Willy Caballero who gifted Ante Rebic for Croatia's first goal.
"It's not right to blame Caballero," said Sampaoli, looking bemused during his post-match news conference.
"If I'd planned things differently, it would have worked out differently. I honestly thought the plan for this match was going to put pressure on the opponent. But after the disaster of the first goal, it was tough, we were lost emotionally.
"Our driving force is Leo, but we couldn't find him. We work as a team to get the ball to Leo, but also the other team works to avoid that.
"There is shame, pain, at not delivering for the Argentine people. It's been a long time since I felt like this, and now it's happening with the shirt of my own country. It hurts badly.
"It's not the boss's partial responsibility, it's his total responsibility," said Sampaoli, after presiding over Argentina's heaviest defeat in the World Cup group stage since 1958, a result that saw Croatia qualify for the last 16.
Third in Group D with one point after two games, Argentina is now struggling to scrape into the second round and an exit at this stage would be humiliating for a team of their stature.
Croatia qualified from their group with a match to spare thanks to goals from Ante Rebic, Luka Modric and Ivan Rakitic.
If Argentina goes ahead to fire Sampaoli because of the poor show here, he will become the third Argentine coach sacked during their troubled qualification phase – Gerardo Martino and Edgardo Bauza.
Source: thisday