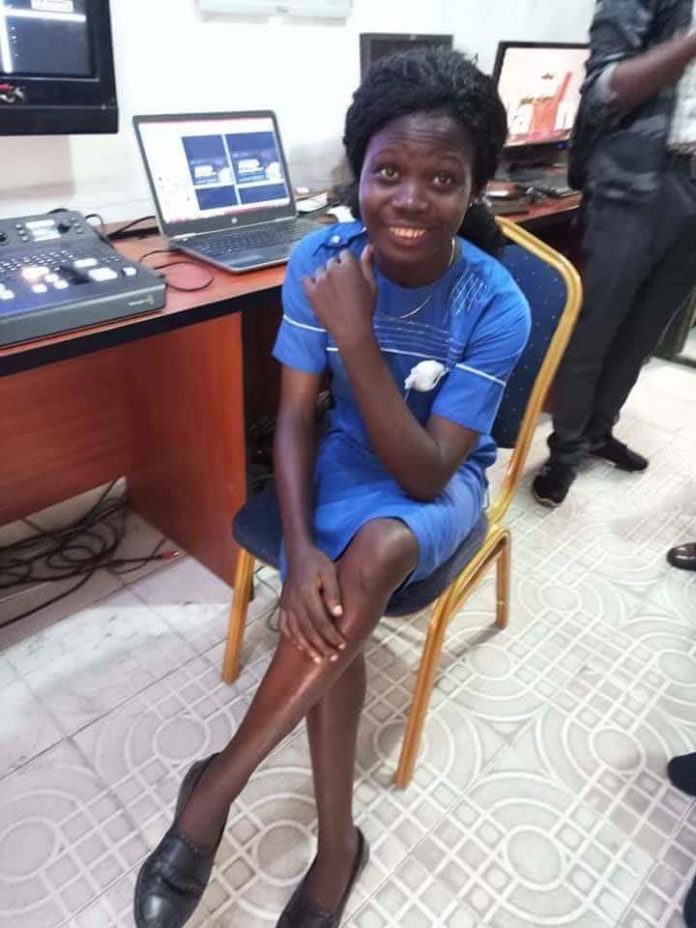 This her Open Letter
My name is Kalu Ndidiamaka Ndukwe. I am from Ohafia Local Government Area in Abia State. I stay in Owerri and I am a journalist.  want to request for everyone's help in any way to see to the release of my HND result in Federal polytechnic Nekede Owerri for I have long graduated in August 2016 but still held now because of federal polytechnic Nekede Owerri's error.
#This is the full story. Please be patient to read through
It all started in May 2017 when we were posted to our various states for the one-year compulsory National Youth Service Corps NYSC. I graduated from Federal Polytechnic Nekede Owerri via Mass Communication Department. I was meritoriously admitted into the Institution in 2014/2015 academic session to read Higher National Diploma (HND) Mass communication.
I passed through the all-important screening exercise where my transcript from my former school where I did my National Diploma was a basis after which I was given a registration number and Identity card even while I was asked to go and pay my school fees. I did HND 1 to HND 11 successfully as I passed all exams given to me and my name was published in the past list and academic board list for mobilization for NYSC in April 2017.
Again, we did convocation in 2017 September and they again published my name in the convocation brochure (19th Convocation ceremony of the Polytechnic). I have a copy of the brochure as this also testifies that the school has certified me and found me worthy in both character and learning.
At the point of collecting my statement of result in May 2017 to report to the Orientation camp since I was posted at Ebonyi State in the Batch A stream 1, my problem started. They said I should wait for verification of transcript as I did my Diploma in another school. I was surprised that since February 2015 when I sent my transcript through my former school, Federal Polytechnic Nekede, has not done my verification. It took a long time and before they will finish authenticating my result, Camp has been closed and I was now asked to wait for another Batch or stream.
I thought they will give me my result after the authentication but I was denied my result as they told me from the verification unit that I was not supposed to be admitted in the first place into a Polytechnic because of the university affiliation which my former school, International Institute of Journalism, Abuja, had with University of Maiduguri.
I was asked to write a letter to Committee of Deans so that the result will be given to me on compassionate ground or what they call waver as it was very clear that the error was not mine but that of their screening staff who screened me in. They should have allowed me to go at the very beginning.
July 2017 was when I wrote the letter. Each time I go to school I will be abused, humiliated and insulted by the school management who are not saying anything concerning my case. Every time, they will tell me that they have not held meeting or come back tomorrow, that they were busy with other management programs. These has cause me a lot of psychological trauma, depression, frustration and mental stress even till now since it is exactly one year and they are still not saying anything. It is their silence that is killing me the more.
They want to delay me in vain. After two years of struggle, hard work and pain to acquire HND, they want all my efforts to be in vain. Being that I'm an orphan who loosed both parents at a very tender age. I struggled to see myself through school and refused to do what my peers did. I refused to be a burden to my society.
It may interest you to know that I was privileged to be a departmental exco in Mass Communication and in less than one year I formed a formidable team and we produced the First ever Magazine (Campus Watch) of the Department as the Director of Publicity cum Editor- in- Chief. I also revived and brought back to news stand their newspaper (PolyNek Express) which was out of the news stand for 4yrs. I was into campus journalism because of my experience from International Institute of Journalism.
I did a lot of free publication and high publicity for Federal Polytechnic Nekede Owerri, my department and the management infrastructural programs because I always wanted the best for my school and this made my then Head of Department (HOD), Dr. Basilia Igbokwe, retain me as a staff immediately after my graduation but I left the job in August 2017 because of the frustration as I cannot work in an environment where I do not have peace.
As I write now Sir, they have not done anything and they are not saying anything. I do not have anyone to speak for me. I could have engaged the service of a lawyer who will speak for me but the money to