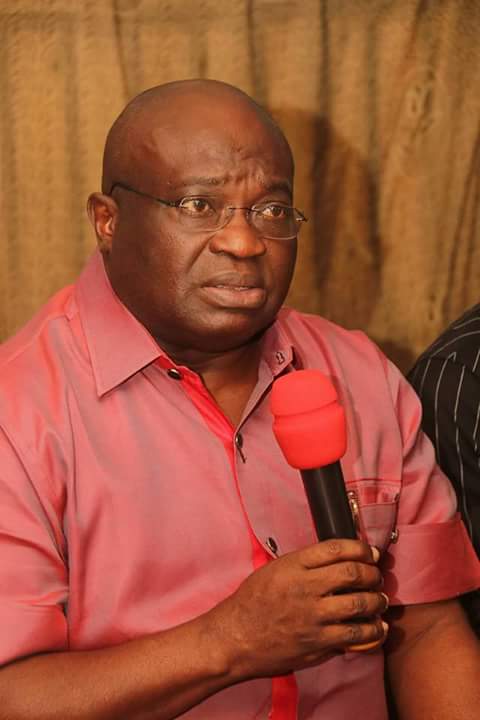 "If you will not die for us, you cannot ask us to die for you."
– Jacqueline Carey
Let me repeat for the umpteenth Time that i Promise Uzoma Okoro,is not Interested in any Government Offer for Now due to my Personal Decision to Return back to the University,but when things go wrong,the need to speak out becomes Necessary.
The merits of loyalty are often debated – anyone who has ever been hurt by someone they considered a true friend can attest to the fact that loyalty is a double edged sword. But no one who has ever found himself in need of a true friend can deny it is one of the most valuable gifts in the world. But as valuable it is, it can also be exceedingly rare.
Perhaps one of the reasons that it is such a rare quality these days, is that loyalty is so easy to misplaced. How many times have you given your loyalty to a person or a cause only to realize that your trust has been betrayed and your faith has been broken?
The Governor of Abia State Dr Okezie Ikpeazu is getting it wrong in the Areas of Reward,abandoning those who took Bullets for you at the darkest moment in favour of those who fired the Bullet is most Unfortunate.
Having Followed the Series of Appointment extended by the Okezie Ikpeazu's Administration,i have come to the Conclusion that the Governor is been wrongly advised by his Advisers.
Ikpeazu was one of the Few Current Governors elected in 2015 that faced stiff Opposition from Campaigns to Court,those who are jumping and Jubilating around the Governor now were the same people who fought to ensure he was not crowned the Governor of Abia State in 2015.
I see No Reason why a Governor will take Joy in Rewarding Converted Enemies Instead of Steadfast Loyalists all in the name of Politics.
Why the Governor may not be Fully Blamed over this,those who are Recommending Names for him to sign should be Ashamed of themselves because they have exhibited Stupendous Ignoramus and have failed to protect the Governor.
People who worked Tirelessly to Stand by the Governor in his Struggle Times have been abandoned why those who are not even from Abia State,those who knew nothing about Ikpeazu have been Appointed as his Special and Senior Special Assistants.
Why must the Governor wait for his Loyalists to Negatively react before he remembers to take of them,What is wrong in Putting Smiles on the faces of People who stood by you in the Darkest Hour.
It was in this Same State that the Publicity Secretary of the Peoples Democratic Party(PDP) came to facebook to lament that the Governor is not Funding the Party and that the Executives of the Party are gnashing with their teeths,although the Governor later bought Official Vehicles to some of the State Executives of his Party Including the Publicity Secretary,such embarrassment could have been avoided if the Governor have a laid down plan on how to reward his Loyalists.
What is Happening in Abia is that those who are Advising the Governor are using the Opportunity to Settle their Girlfriends,Settle their Immediate Family Members without Recourse to those who laboured to Support the Governor in 2015.
A Good Leader will not allow his Foot-soldiers to revolt before he comes to their rescue,placing Enemies on Executive Care while those who stood by you are being asked to wait is most Unfortunate.
As a Young Man,i have never allowed anybody Including Politicians to take me for granted,anytime anyone tries to take my Support for granted,i will Make a U-turn and revolt,and trust me the effect is always painful.
Abia State Governor Dr Okezie Ikpeazu must as a matter of Urgency be advised Properly that several Youngmen who Supported him have been abandoned and they are not Happy,what is the essence of asking a man to support you,when you will leave him and build mansion for those who fired bullets at you.
Loyalty is not Stupidity,when you fail to take care of a Loyalist,then you have failed as a Leader and as a Person,whether in Politics or outside Politics.
Promise Uzoma Okoro is the Director of PUO MEDIA NIGERIA