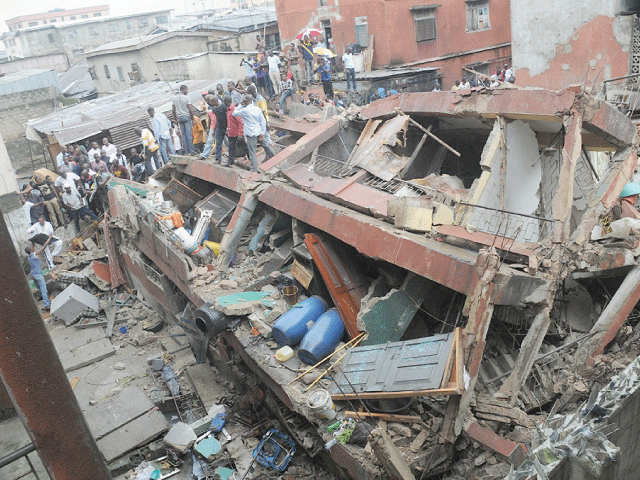 Fresh facts have emerged that a mother, who lost her two children in the Wednesday building collapse that killed 20 pupils and adult committing suicide by drinking a bottle of insecticide known as Sniper.
We gathered that she commited suicide after she received news of the death of the children in the collapsed building.   Neighbours seen talking about the tragic incident said the woman and her husband who lived in Gambari area of the Island gave birth to the two children, who were between the ages of six and four, through Caesarean Section (CS).
A neighbour said, "Nobody knew what she wanted to do with the Sniper. But a few minutes later, we saw the bottle beside her where she was sleeping and we found out that she was already dead.''
Sympathisers thronged their house to condole with the husband and family members.   Meanwhile one of the parents, Mr. Muyideen Akinshina, also lamented that one of his three daughters, Mujidat, is still missing, 24 hours after the collapse.
Akinshina, whose three children attend the school, Ohen nursery and Primary school, Lagos Island, disclosed that to aggravate the agony, he has buried one, Aaliyah, who did not survive after the collapse.
The bereaved father lamented that he is now left with his last child, Abdullahi, who is two year-old and was still been attended to at the hospital ward.   "Of my three children, I lost one, Aliyaha, one is still missing, Mujidat, while Abdullahi, who is two year-old, is still been attended to at the ward."
LEADERSHIP