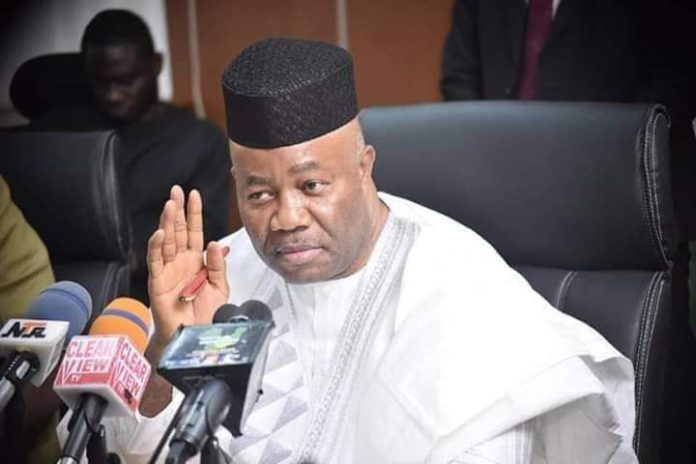 The attention of the Honourable Minister of Niger Delta Affairs, Senator Godswill Akpabio has been drawn to a fake audio message which is being circulated on the internet in which the Minister is portrayed to be speaking with some unknown persons on plans to blow up pipelines in the Niger Delta.
Senator Akpabio completely dissociates himself from the fake audio message and the sinister plots of the criminal elements behind it. The Minister has never and will never be involved in such schemes. This video is therefore a big forgery.
Ever since the commencement of the ongoing forensic audit of the Niger Delta Development Commission (NDDC), those who have perpetrated unimaginable fraud in the Agency in the past have engaged in various plots to scuttle the exercise through spurious allegations. They started by fabricating allegations of frauds against the Minister and the Management of the NNDC. Since it is now clear that nobody has taken those allegations seriously, they have now advanced to forging audio messages.
Why would Senator Akpabio be involved in blowing up oil pipelines? For what motive? A man who has been a Commissioner for six years, Governor for eight years, Senator for four years would plot to destroy the life wire of his country? This is absolutely ridiculous.
This fake audio is just the handiwork of depraved minds and one in a series of their schemes to divert national attention from the forensic audit exercise.
The mandate of Senator Akpabio as Minister of Niger Delta Affairs is to work with stakeholders to maintain peace in the region. It is only a depraved mind that would link Senator Akpabio with devious plots to destabilize the region for whatever reason.
The Minister has petitioned the security agencies to get to the roots of the fake audio and bring the miscreants behind it to book. Once again we wish to state that the audio message is fake and the public should ignore it.
No amount of blackmail, campaign of calumny, character assassination and fake news against Senator Akpabio and the Interim Management Committee of the NDDC would make them to back down on the ongoing forensic audit.
Anietie Ekong
Chief Press Secretary To the
Honourable Minister of Niger Delta Affairs.
June 1, 2020.