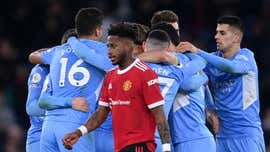 The Red Devils were sunk almost without trace in one of their biggest matches of the season, with their two ex-stars seeing their loss as unacceptable.
Manchester United 'gave up' in their derby loss to Manchester City, claims Roy Keane, while former team-mate Gary Neville branded their performance a 'disgrace' in their 4-1 defeat.
The Red Devils were humbled by their cross-town rivals in one of their crunch clashes of the second half of the season, with Ralf Rangnick's side blown out of the water by Pep Guardiola's hosts.
A lone goal for Jadon Sancho in the absence of Cristiano Ronaldo could not compensate for another sluggish United display, with several key stars shrinking on the biggest stage again – and post-match, Keane had several choice words to describe their apparent attitude.