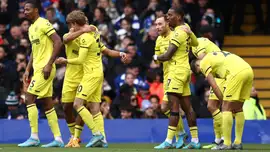 Brentford move up to 14th and are now 11 points clear of the drop zone. Next up for them is West Ham at home. Chelsea's winning run comes to an end, and the gap between them and the teams below them could close this weekend depending on other results.
Their attention turns to Real Madrid in the Champions League quarter-final on Wednesday.
Brentford come from behind to shock Chelsea with a 4-1 win. The game really got going in the second half, with Rudiger scoring a wonderful long-range goal just three minutes after the break which went in off the post. Just two minutes later, Brentford were level through Janelt and Eriksen fired them ahead not long after following a great counter-attack.
Janelt then got his second of the match with a lovely chip over Mendy from a tight angle before Wissa came off the bench to round it off for the Bees.