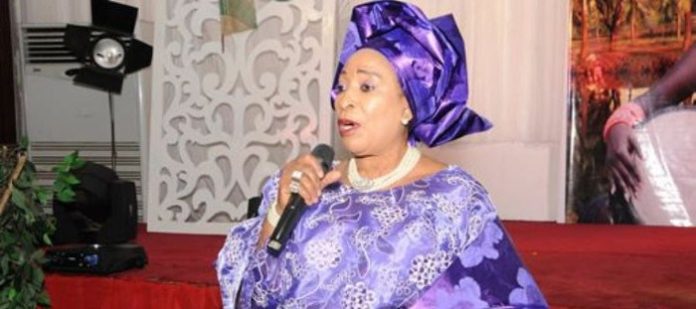 The wife of the former Vice President, Titi Atiku has said that Nigeria will be in another trouble if her husband, the Peoples Democratic Party (PDP), presidential candidate, Atiku Abubakar is not voted in as the next President of Nigeria because there is hunger in the land.
Abubakar said this in Abeokuta while speaking with newsmen during her welcome party organised by the Sikirulai Ogundele faction of Ogun State PDP on Sunday.
She said "I have started my tour, I started with Osun State, Ibadan, Oyo, Ogbomoso and I am here today in Ogun State to bring message of love, hope, togetherness; message of integrity that my husband has sent me to come and give Ogun people.
"My husband is a PDP man, I have gone round and I've seen the faces of our people in the street, everywhere I go, I see our boys, our boys are becoming miscreants in the street, they have no hope, no job, they have no food, they would even tell you that they are hungry that you should give them food; they have become hooligans whereas these are the leaders of tomorrow that we are going to hand over the mantle of leadership to.
"If care is not taken, there is hunger in the land, people are crying, we have to kick out hunger, we have to say no to this, our children need to be educated because they are the father of tomorrow, we have to train them to have jobs, we have to give them good education, good living, good water," she said.
She, however, noted that no matter how much there is suffering in Nigeria, the people's hope could only come to pass when they all get their Permanent Voters Card (PVC) and use it to vote her husband in as the next president.
"For us to do this, we have to have our PVC, because it's our passports, our visa to get PDP government working again, if we don't do this we are in big trouble, we are in big trouble because our girls are out there selling themselves, our boys are out there, they have become big miscreant on the street and we the elders we cannot sit down and watch, we have to do something quickly, we have to change this government, our people are tired, they are hungry, a bag of rice that use to be N6500 is now sold for almost N20,000 and living wage is only N18,000, what is the meaning of this? Before you pay for house rent, pay children school fees, light and other amenities, there is no money people are suffering we are now more divided than we were before.
"So, we want our country united again, we want to modify this country and to do this, our PVC must speak for us, by this time next month we should all be rejoicing, we should all vote APC out," she added.
She, however, enjoined Nigerians to stand and defend the ballot boxes and papers in a bid to get Nigerians working again.
The state Chairman, Alhaji Sikirulai Ogundele also advice that the people of Ogun State to vote for the PDP.
At the event was the Factional governorship candidate of the PDP in Ogun State, Hon Oladipupo Adebutu and his wife, Yeye Adenike Adebutu; his running mate, Alhaja Aminat, Nigerian Yoruba actors, among others.
PM NEWS